Written by: Kinsley Holland​
Relaxing.
Exhilarating.
Sea Cucumber.
Mafia.
Community.
Spiritually refreshing.
Destin Beach.
Cru Spring Break.

"So, what's Cru Spring Break in Daytona like?" When senior Matt Johnson recounts the week he
spent there, these are the only words you'll find emerging from his memory.

Hey there, I see you, that one who doesn't feel like they'd thrive spending a week in Daytona
because evangelism may not be something you live and breathe, or maybe you're thinking that
you've messed up too many times to feel confident in telling others how God has worked in your
life. Maybe you've never ventured out of your comfort zone and you feel like as soon as you do,
the weight of the world will just be too much to bear. But let me tell you something: God doesn't
call us to be comfortable, because he isn't comfortable. He calls us to GO.

"Give praise to the Lord, proclaim His name; make known among the nations what He has
done."

Psalm 105:1

"Then I heard the voice of the Lord saying, 'Whom shall I send? And who will go for us? And I
said, 'Here am I. Send me!"

Isaiah 6:8

"My name will be great among the nations, from where the sun rises to where it sets. In every
place incense and pure offerings will be brought to me, because my name will be great among
the nations,' says the Lord Almighty"

Malachi 1:11

God has called each and every one of us who know him to proclaim the good news of the gospel
to all nations, and if that includes a week over Spring Break in Daytona Beach, Florida, would
you listen to that call?

If you're strongly considering stepping out in faith and going on Spring Break with Cru, you've
come to the right place. To answer a few of your questions, I sat down with a senior who has
been involved with Cru since the beginning and who has gone on the Daytona mission trip two
years in a row.

Did you have any reservations about going?
"Actually, it wasn't even really a second thought for me to go. I knew that I wanted to go and
share the gospel, and there I was, being presented with an opportunity to go on a mission trip to
the beach for such a reasonable price." (Oh yeah, it's $230. Boo ya.)

What would you say the most memorable part of the week was?
"Okay, so this one time, I was down at the beach with a few others and we saw a sea cucumber.
Fern and Caleb Sweeney decided it'd be a good idea to try to see what happened if they... Well,
you'll just have to ask them." (Unfortunately, a sea cucumber was harmed in the making of this
mission trip.)

What did the Lord show you while you were on the trip and evangelizing?
"I definitely learned the importance of rest, physically and spiritually resting in God, throughout
the week. Sometimes your spiritual cup runs dry and it's nice to get away and simply focus on
Jesus. The speedboat rides, spike ball on the beach, nighttime oceanic adventures, games of
Mafia where I didn't get killed in the first two rounds, newfound friendships, and extensive
community time with other people from Western's Cru are just amazing."

Was it easier to share the gospel with people you'd never met before?
"As an introvert, I can confidently say that it was easier because I knew he'd probably never see
them again, which was even more of a motivation to share the gospel. It really took the stress of
people judging me off my shoulders because I'd never met them before."

Anything else you would like to add?
"You should go. It'll be lit."

If your heart is pumping incredibly fast or your palms are sweaty after reading about many of the
amazing aspects of Cru Spring Break, I'd say that's probably God pushing you to go. I'd
encourage you to talk to a staff, get more information, and sincerely pray about going. Until next
time!
"And he said to them, "Go into all the world and proclaim the gospel to the whole creation."

Mark 16:15

P.S. You should go to Spring Break.
Powered by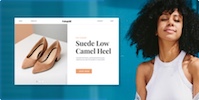 Create your own unique website with customizable templates.